If you don't fail to celebrate birthdays or any such special occasions of your loved ones, then why not do the same for cats? When it comes to celebrations, it's incomplete without a cake! So why deprive your cats of the blissfulness of enjoying cakes!
Learn the easiest and safest cake recipes for cats with our top 6 ideas to bake. We know that cats can't eat a regular birthday cake, as most of the ingredients are not safe for them.
That's why we had used the most desired safe and gluten-free ingredients, like salmon, chicken, and shredded cheese, etc.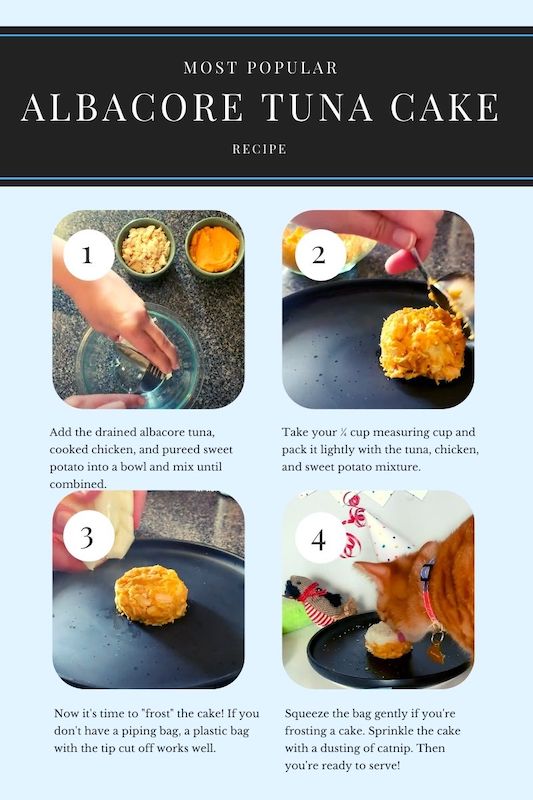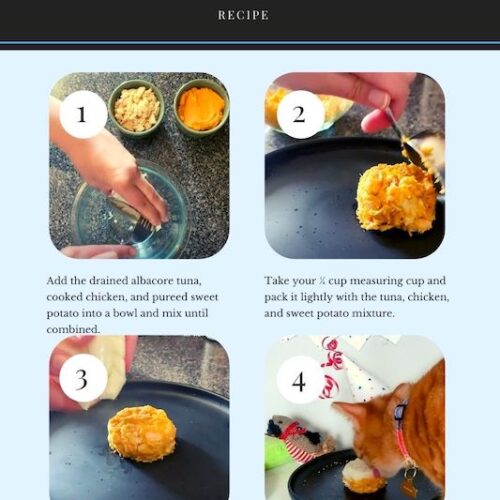 1. Albacore Tuna: The most Popular Cat Cake Recipe
Everything about the albacore tuna cake is safe, you will hear the audible slurping of your cat as she loves tuna. You can also use it as a healthy cookie or dessert, as they are easy to digest.
Equipment
Measuring cup

Plate

Piping bag

Knife

baking sheet

wax paper
Ingredients
1

cup

Canned albacore tuna

1

cup

1/2 diced chicken (cooked)

1

cup

rice floor (optional)

1

cup

purée of sweet potato
Instructions
Take a rime baking sheet with wax paper, line them.

Take out the tuna can, drain and then scoop the tuna into a mixing bowl, flake it in small parts.

Now it's time to take out the diced chicken, add it to the same mixing bowl.

Add Purée of sweet potato, stir it. Add only to keep the mixture together.

Now you can put this mix in any desired shape of cutter.

Lift the cutter and yay! Cake for cat is ready.

To dolled up this cake recipe for cats, you can fill the massed potato in a pastry bag fitted with a large piping tip.
2. Egg White and Tuna Cake
We all know how much our cats love to eat tuna, just open a can of it, and she will come running to you from any corner in your house! This cake recipe for cats is very delicious, you can even share it with other cat parents.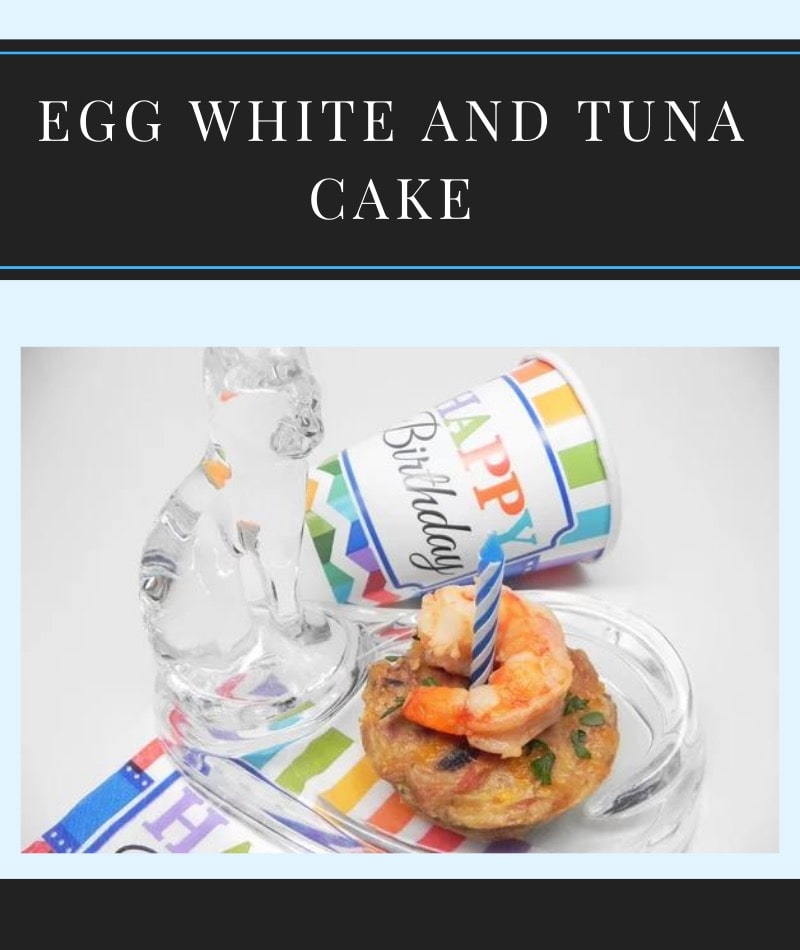 Ingredients:
Cooking spray
Drained cat tuna, (6 ounces)
All-purpose flour (2 tablespoons)
Cheddar cheese (1/8)
Egg white (1egg)
Cooked shrimp (4 medium blank peeled)
Steps:
Preheat the oven at 350 degrees F.
Take out two muffin tin cups and spray them with cooking spray.
Mix all three of our main ingredients, drained cat tuna, all-purpose flour, cheddar cheese, egg white in a bowl.
Transfer this mixture into the muffin cups.
It's time to bake! Put the muffin cups into the preheat oven for 15 minutes.
After it's done, allow it to cool down.
Voilà! To make it look more desirable, garnish it with shrimps.
3. Salmon Cake
Many cats are fascinated by the fishy scent and flavor of shrimp and would never turn down any chance to slup it. A plus point, this cake recipe for cats contains tuna! So your cat will probably go gaga! Over this amazing cat cake!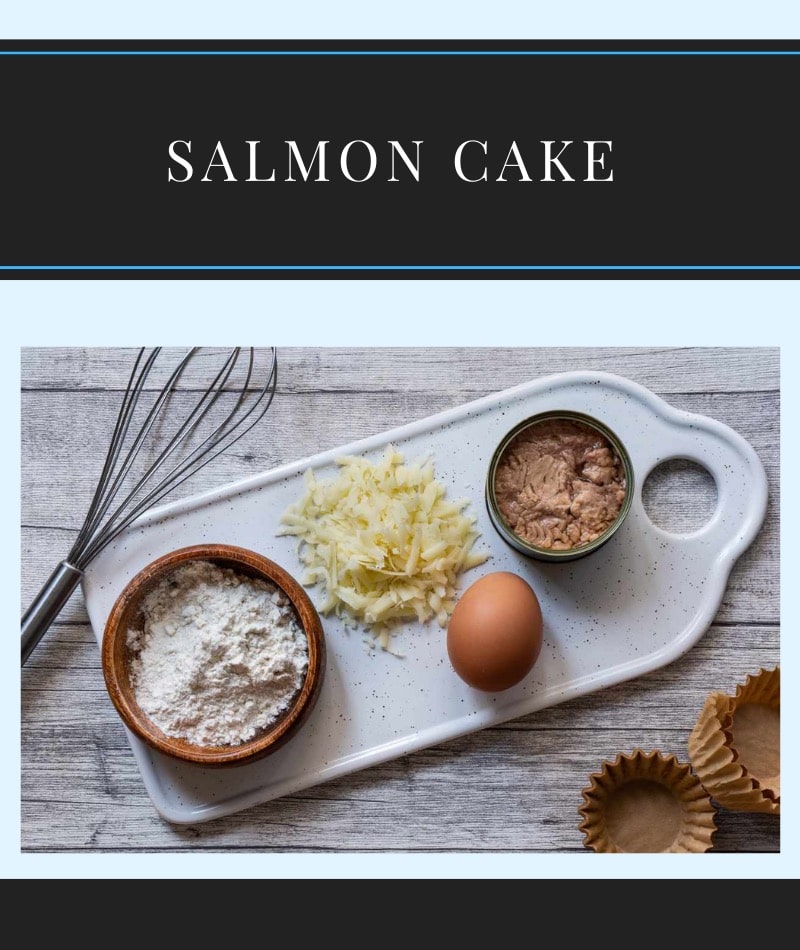 Ingredients:
Salmon
Grated cheese/Parmesan cheese
Eggs (1)
Flour (3 tablespoons)
Steps:
Shred the salmon as much as you can do it.
Beat the egg. Add this to the salmon.
Stir both of them, add flour while stirring, make sure you create no lumps.
Preheat the oven at 180 degrees.
You realize that the dough is even add cheese to it.
Put the dough in a desirable cake tin or muffin cups.
Put it in oven for 15-20 minutes.
4. Deep-Sea Delight Cake
We had named this a deep-sea delight because the main ingredient of the cake recipe for cats is fish! You can always picture cats with fish because they simply love it! Let's look into the preparation!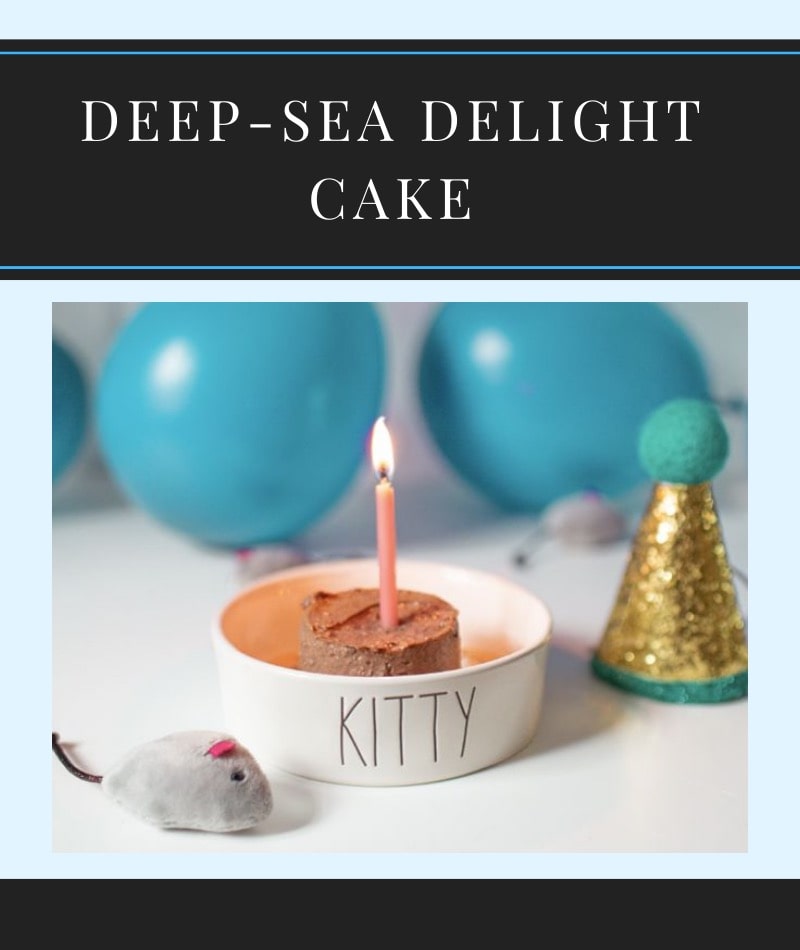 Ingredients:
Wheat floor (6 tablespoons)
Raw eggs (3)
Mussels
Peeled shrimps
Grated cheese
Squid
Steps:
Preheat the oven at 180 degrees.
Take out a bowl and get ready to mix.
Shrimp, squid, mussels and grate
Cheese mix them well in the bowl.
By the time you are mixing them, ask someone to beat the eggs for you.
Now add the egg in the same bowl. Mix it together.
Place the shell fish, we will cook it in the oven later, don't worry!
By the time, cook some mussels because we are going to use them for garnishing.
Put the mixture in a mold, place it in oven for 15 minutes.
Note: After 15 minutes, take it out and allow it to cool down also please take extra care that you don't add salt to it as it's not suitable for cats.
5. Peanut Butter and Pumpkin Cake
This is one of the most desired cake recipes for cats also consumes less time! So if you forget your cat's birthday or any such special occasion, don't worry, we got you covered.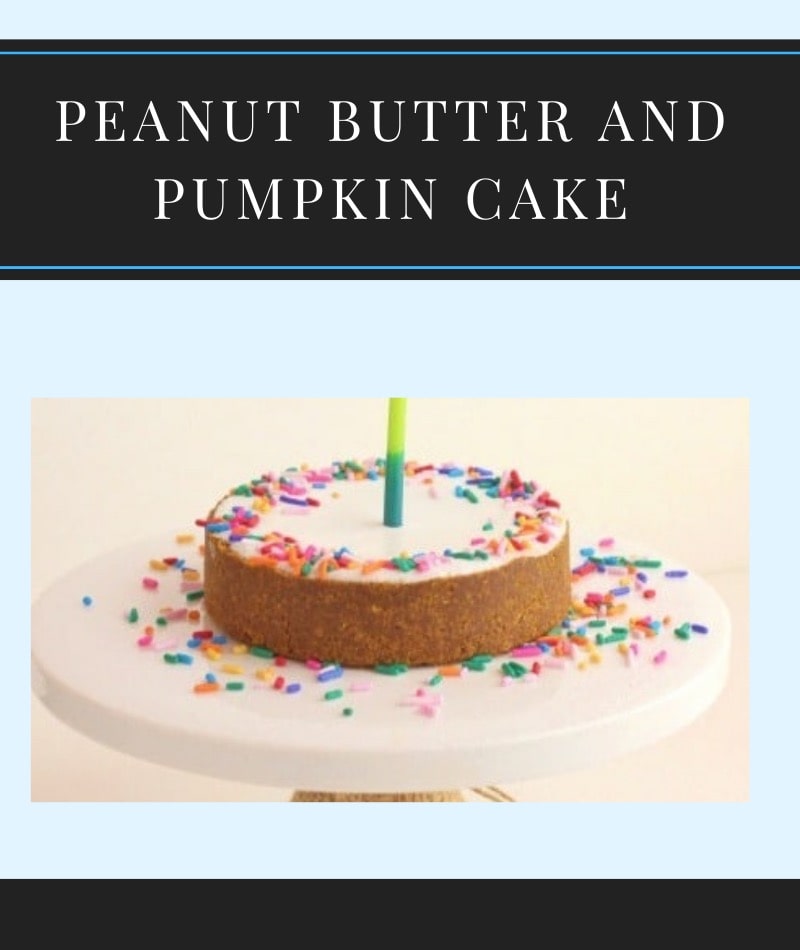 Ingredients:
Cat food 1 1/2 (you can also use dry cat food)
Peanut butter (3 tablespoons)
Pumpkin purée (1/4)
Water (2 tablespoons)
Sprinkles (2 tablespoons)
Powdered sugar (1 cup)
Steps:
You need a food processor, put cat food, peanut butter and pumpkin purée.
Pulse till it looks like coarse crumbs and sticks together.
Use a mini cake pan or cake pops, roll or press them into it.
For the frosting, mix the sugar with water and your icing is ready.
Ice it on the top of your cat's cake, use a spatula to spread it.
Doll up this cake for your cat with sprinkles.
6. Wet Cat Food Cake
Make this cake for your adorable cat, very simple and quick cake recipes for cats. With just two ingredients, best on occasions like birthdays! The easiest cat birthday cake.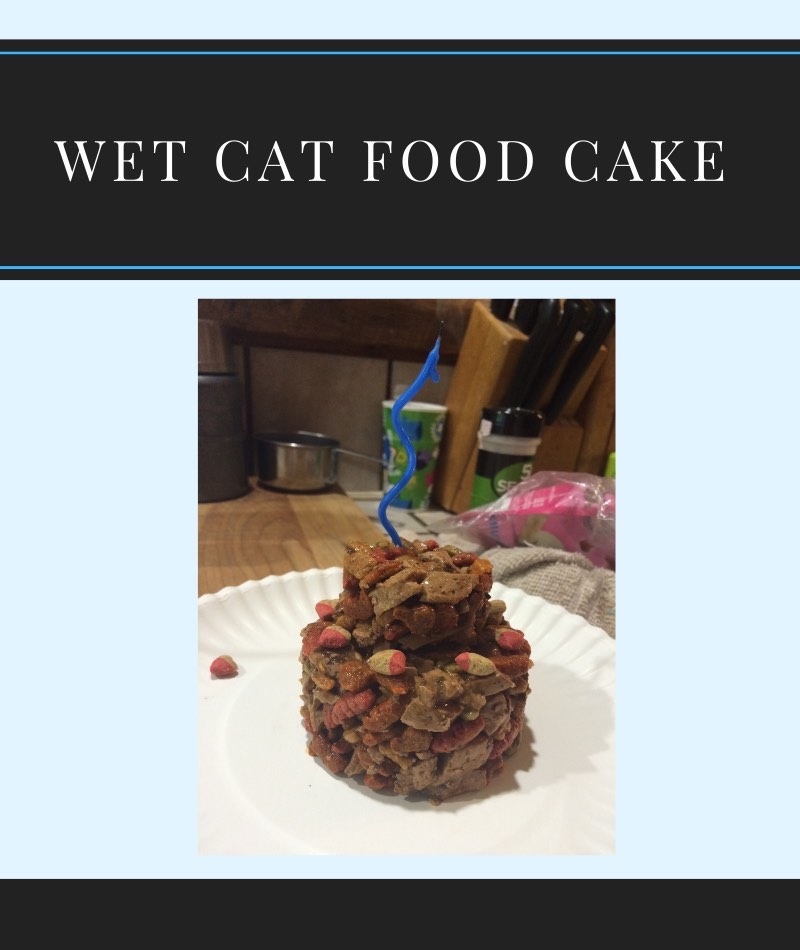 Ingredients:
Can of wet cat food/ dry cat food
Dry cat food pieces or cat treats
Steps:
Take a plate, turn the can of wet/dry cat food on it. Turn it upside down for a better result.
Remove the can very carefully.
Decorate this cake with dry cat food pieces.
No, forth step! The Easiest cake recipes for cats!
Conclusion
Celebrating any occasion with your cats is the most amazing idea you could ever land on! Since our cats can't eat human cakes due to ingredients like cream, sugar, chocolate, etc. the list will go on! They are harmful to cats. Baking cakes that are specifically designed for them, considering the safety concern.
Our top 6 cake recipes for cats are customized with suitable ingredients, strictly keeping in mind what a cat is not supposed to eat! We hope you and your cat buddy get to cherish every special moment together with our cake recipes for cats.
References
How to celebrate your cat's birthday — wikiHow
Can cats eat cake — Baking How
Different ways to celebrate your cat's birthday — Petfinder