Looking for the perfect kitten toy to keep your furry friend entertained and help with their overall growth?
Look no further! We've got you covered with our top 9 picks for the best kitten toys around. Whether you have a curious little hunter or a playful ball of energy, these toys are sure to satisfy their needs and keep them engaged.
Don't let your kitten's natural hunting instinct go to waste, choose one of these top-rated toys and watch them flourish. Trust us, your furry friend will thank you!
Best Overall

SmartyKat Skitter Critters Cat Toy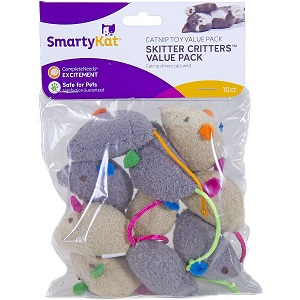 Light-weighted cats can easily move it
It is made of fabric surrounded by fiber filing
Mice body is durable and made of recycled material
---
Editor's Pick

BENTOPAL Automatic Cat Toys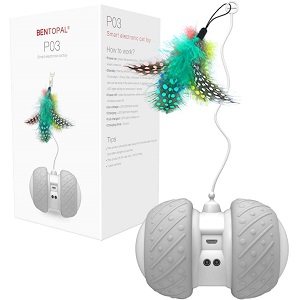 Available in bright colors
It provides 30 days free return policy
Built-in senses help to track the obstacles, Fully automatic.
---
Affordable Pick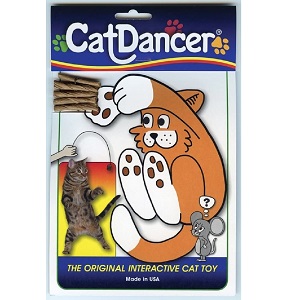 Made in USA

Irresistible lure for cat

Includes spring steel wire and rolled cardboard
The 9 Best Kitten Toys Reviews
The best kitten toys are probably those which are not just liked by us but also loved by our kittens. And for that, we can mostly depend on its choice. If you want to know what do kittens like to play with! You're at the right place.
Yes, you read that correctly, here's a list of top kitten toys which are most used and loved by the kitten itself.
1. SmartyKat Skitter Critters Cat Toy
We all know how much a cat loves chasing mice! Wasn't our favorite cartoon about that? But would you or anyone else like seeing your cat chasing an actual mouse and bringing it near you like treats, the answer is definitely no! Gross right!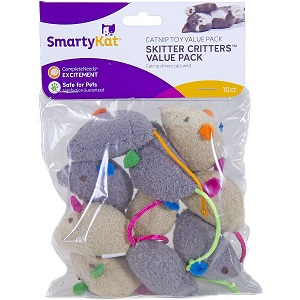 Being pet owners, we all are aware of such incidents where our pets surprise us by bringing a dead mouse or bird into our homes and keeping them on our beds so that we could notice them. Let's buy them these cute colorful SmartyKat Skitter Toy Catnip Mice, which keep them from chasing and hunting a real one. They are lighter so that your cat can carry them anywhere it wants. Kittens and cats love these toys.
To conclude, we think this is the overall best kitten toy.
Pros:
It is so light weighted that cats can move the toy around very easily.
A good medium to bond with your cats, fun kitten toys.
They don't contain any substance which could be harmful, like long string, cord, sharp points, etc
The mouse is made of fabric surrounding a fiber filling.
A catnip toy is also known as a kitten teething toy. Contains dried leaves of catnip stuffed into the fiber.
The body of mice is very durable and made up of recycled materials, so the tail can't be ripped off that easily.
Cons:
Some people might find the size smaller. Have a look at the size guide before making any purchase.
2. BENTOPAL Automatic Cat Toys
BENTOPAL Automatic Kitten Toy is also an exercise toy. It is made up of feathers that catch your cat's attention promptly. Kittens will love this so much and probably spend hours chasing it. The most attractive feature of this toy is the feathers and automatic system, which allows you to rest back while your kitten is having a good time.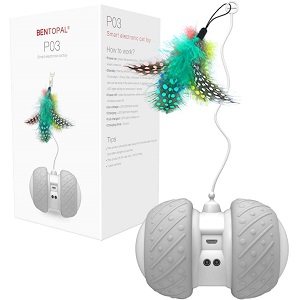 The best part is you don't have to get up every time whenever it gets stuck as this comes with an inbuilt sensor. Which helps to sense an obstacle, whether it's a wall or table leg. The best toys for kittens solo play. Leaving kittens on their own may seem a bit of a task, but keeping them engaged is not with this toy.
Pros:
Automatic kitten toy, which allows you to focus your attention on the things you want to do.
Bright colors, just like the beautiful feathers of any bird, give it a realistic look.
It has a 620 my large capacity battery, so it will work for at least 8 long hours of fun!
A built-in senses digger helps the device to track obstacles and change direction; it also results in a good chase for the cat, as it won't get caught easily.
The brand provides 30 days free return, so if your fluffy doesn't like a toy, you can return it without any fear.
Cons:
The feathers might get pulled out if they are tackled too harshly.
3. Cat Dancer 101
Probably the best kitten toy around the globe, it's merely made up of a few products like rolled cardboard and spring, which creates an irresistible lure for not only the play-full ones but also the ones who are super lazy! Cat Dancer 101 is an original interactive kitten toy.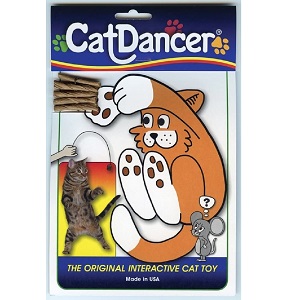 They don't just love them, they get so obsessed that you'll probably need to hide them so that your kitty could get a little rest or could focus on her food. Cat dancer toys are the top priority of pets, even in a room full of other more expensive toys. You can use this one if you want your fur buddy to lose some belly.
Pros:
This toy is pocket-friendly, one can easily afford it.
Apart from being inexpensive, this is also a bestseller.
The easiest way to motivate your pet for good exercise is they will play willingly with it.
Helps in reducing the weight of pets, kitten loves this toy.
Cons:
This product is so good that it contains no negative reviews on a larger scale so probably no cons.
4. Zanies Cat Toys
The funny exercise electric flutter rotating kitten toys. Cats chasing butterflies? Funny, right, what a view it could be to see them running around these butterflies. Zanies Cat Toys is one of the kitten's favorite toys.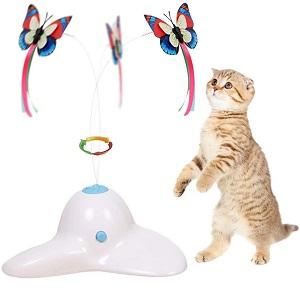 90% of the cats loved this toy because it is not just moving on the ground, it's flying up in the air. Which motivates it to jump. They come with a secured base so that it doesn't slip or fall. These toys are very cute and unique. It's pleasing for us as well as our pets.it flies unpredictably so that it creates curiosity every time, unlike most of the toys.
Pros:
Unique designs and attractive patterns of butterflies, specially designed to attract cats.
Replacements are available so that you don't have to worry about it getting lost.
Excited cat stalk and hunt in a safe and engaging environment.
Very easy to use. Just by clicking on/of the button, you can start and stop it.
Uses rubber feet on the bottom, so that cats can play without slipping.
Cons:
The wire could break if handled roughly by pets. But that's something which can be taken care of by supervising our little feline friends.
5. HEXBUG Nano Robotic Cat Toy
Ever imagined how wonderful it would be if your kitten is accompanied by a Little buddy who will run around the house, avoid bumping into obstacles and keep your kitty busy discovering what it is made of! A Hexbug Nano Robotic kitten toy! As it looks like cat's natural prey, mouse! She would love to play with it for hours.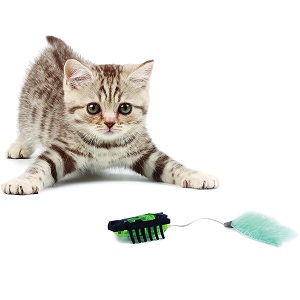 Designed so uniquely that it directly catches your kitten's attention. And we all know how curious our fur buddies are. Pets are someone who needs constant attention and that's not possible for us every time, so we need something which will free us from the guilt of leaving our pet alone, and this fits perfectly!
Pros:
Changes direction automatically, which spares you from picking it up every time it gets stuck anywhere.
A great option to motivate your lazy pets for exercising and moving around.
Hexbug has expertise in designing toys so that your kitten love them.
Cons:
The HEXBUG nano Robotic Cat Toy might have difficulty moving on surfaces like a thick carpet. Work well on the floor.
Have small parts which can pose choking hazards if not kept properly.
6. Petstages Tower of Tracks
Sometimes we just get so tired of finding balls or losing them to places we can barely reach, like under the bed or furniture. So we would love a toy that allows us to be carefree about losing anything, which is why the Petstages Tower of Tracks is designed in the three-stage tunnel with colorful solid balls spinning and rolling around and around.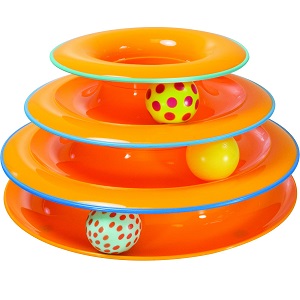 As an independent play for one or multiple cats. Best kitten toy for indoor play. Also, helpful in the rainy season so that you don't have to worry about your cat missing her daily extra fun. If you worry about the cat being upset for not getting the ball out, you can always do it by applying a little force and remove the ball out.
Pros:
This kitten toy doesn't require a battery to work.
Though the track is designed in such a way as to keep the balls only on the inside, you can always take it out by applying some force.
Since they are light weighted, you can carry them around easily.
The right option for your cats and kittens when you have to leave them on their own, the best kitten toys for solo play.
Cons:
Since it's Light-weighted, it can fall easily on surfaces like carpet, perfect used for flat surfaces.
7. Ethical Pet Laser Exerciser Toy
We have all at some point in our life seen dogs and cats running or chasing lights. They have their mysterious ways to keep them amused. And it is fascinating to know that Ethical Pet Laser Lights unleash their inner tiger. The best part is that it's safe for the eyes of both humans and animals. You can send your pets on a mission of your choice, indoor, or outdoor. It's a thrill to watch.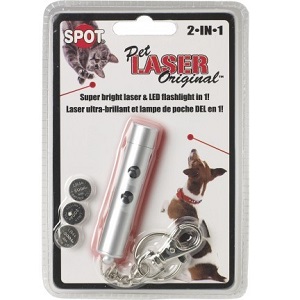 The game includes a laser pointer and a red LED light. Now your kitten can easily chase around furniture and floors. We know you're aware that adult supervision is essential to ensure that the laser beam never reaches human or cat eyes. There are batteries included!
Pros:
The LED light is safe for human as well as animal eyes. So you won't have to worry about any adverse effects.
Allows your pet to explore the spots you want, as you can govern the directions.
Pet lasers can be used indoors as well as outdoors, kittens love to play with it.
You only have to keep pressing the button and point it wherever you want, that makes it easy to use.
Cons:
Have to press on the button constantly mostly for the safety measure because if kept on and unsupervised your pet could reach to unwanted places.
8. Ethical Pet Spot Colorful Springs
What on earth makes these springs so interesting that cats absolutely love them? There are many reasons! Springs are something that cats choose for her as a toy. The best part about Ethical Pet Spot Colorful Springs is that they ain't noisy at all! Shop some of these for your cat, they will love you for that.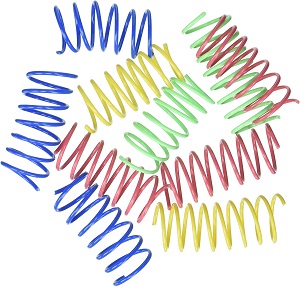 They simply love it because it holds all the capacity of bouncing and moving on its own, which makes them so special. It's so springy and jumpy that a cat could play with it anytime it wants and could carry it easily.
Pros:
The Ethical pet kitten toy is Colorful, that's why it's better than the normal springs.
Very friendly to use with no complications, which makes it the most preferred even by adult cats.
They ain't just affordable, but also very durable. So you buy it once and then don't worry about 3-5 years.
Very simple toy to understand with zero complications, which makes it so desirable.
Cons:
This product is so good that it has almost 0% negative reviews, which make no cons!
9. Pet Fit for Life Squiggly Worm Wand
Cat owners will relate to the fact that we get easily scratched off by our kittens. It is like a normal thing for us, and sadly, it is painful at times. Want playtime with your kitty without getting hurt? Pet Fit for Life Squigglt Worm Wand claws scratcher needs to be taken care of with a worm and cat toy.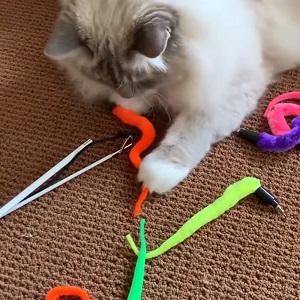 It has break resistance, which allows us to be free from the fear of ripping it apart, even with the most energetic cats. The toy is considered an interactive cat as well as a hunting toy. Worm interactive wand toy comes with 5 attached worms which are color full, and we all know how much a cat loves worms. Cats search for their prey in these worms.
Pros
These colorful worms attract the cat and awaken their hunting instinct.
It keeps them mentally and physically fit.
They're unbreakable, which makes them more desirable to buy.
As the string is made of sturdy rope-like nylon, so it won't break easily and can be used daily.
These are Cat toys for kittens as well as cats of any age.
Cons
Needs supervision, as some older cats can be aggressive and could break the string.
How to Choose the Best Kitten Toys?
While choosing from a variety pack of toys, one should keep in mind a few things like they should enjoy playing with them, it should not be something which is just laying in the corner.
The toys for kittens to play with should be as such which attracts the kitten. Safe, worthy, and durable. During the growing period, they require kitten teething toys to chew on without destroying gums. Listed below are the properties one should look for while choosing good toys for kittens.
Safety
It is a well-known fact that our pets are no less than our kids, which means we should take extreme care of the things which we allow near them. That's why kitten toys should be safe to play with and should not contain any risk element which can be a choking hazard.
Durability
Though kittens/cats look like fur balls on the outside, they can easily tear up things in two parts. This is mostly because of its growing phase. They love to grind their teeth on a tough surface. And if not provided with these toys, they will prey on your furniture or other stuff.
That's why durability is a very important factor to keep in mind. You need durable toys which allow you to rest back.
Size
While choosing good toys for your kitten, you should keep in mind that the size should neither be very big nor small because both can harm the kitten. If it's too big it can fall on and squeeze the kitty, or if it's too tiny it will probably try putting it inside the mouth and can pose a choking hazard.
The size should always be medium. And if you want to go for a bigger size, then it should be light-weighted. That will be harmless.
Solo Play
This is a feature necessary for cats and for us because many times we can't give our 100% attention to them. Solo play allows us to leave them alone for a few hours. But it is also important for the toys to be capable of it. As some toys that your kitten plays with needs supervision when in use.
Always look through the instructions that a toy is capable of solo-play or not!
FAQs About Kitten Toys
Which is the best kitten toy?
Smartykat skitter and Zanies cat toys are the best kitty toys. Smartykat skitter which is a mouse toy is such a loved one. There are several positive reviews on this one. Looks like a real mouse, provide your kitten a lot of amusement.
Zanies cat toy replicates butterflies which are chased for hours by our fur buddies. Keeping in mind the fact that how many kittens enjoy chasing birds and butterflies, this toy succeeds in designing. Also known as the best cat care toy!
How much do kitten toys cost?
Kitten interactive toys range from about $4 to $30. Depending upon the material used to make them. There is a variety of toys If you want a durable yet cheap toy, then you should consider buying Cat dancer 101.
Should kittens play with catnip?
Yes, there is no harm in playing with organic catnip, a fragmented herb. The effect lasts for 10 minutes. Many pet owners use it to encourage playtime. There are two ways of its consumption, one is direct, and the other is indirect. In which catnip is stuffed in toys.
Some pet owners use it to make things attractive for their pets. For instance, if you bought a new kitten bed, but it doesn't even sniff around it, just sprinkling some catnip will draw attention. The younger babies (1-3 months) are not sensitive towards catnip. Toys kittens like to play with can have catnip.
Should I put kitten toys away at night?
It is a well-known fact that cats' instinct for hunting or exploring skills is most active at night. But it depends on her nature whether she should be left alone or not with these toys. If a toy is not capable of unsupervised play, then it should be taken care of.
Conclusion
As they say that pets are no less than kids which brings us a great responsibility with joy, and it's our prior duty to keep them happy, healthy, and safe. These kitten toys won't be considered a luxury, but more of a necessity. They help in developing a good cat behavior pattern.
We can't always keep an eye on them or keep playing with them. What we could do is keep them occupied with certain toys which will not just spare us a long time but will also keep them playful and entertaining, with the fulfillment of their need to hunt and scratch.
After all, a happy cat is a healthy cat!
References:
6 Dangerous Kitten Toys You Should Avoid – PetMD
Cat toys and their potential dangers – RSPCA Pet Insurance
Why Do Cats Purr?- Pet WebMD