We all want our cat's teeth clean without brushing since brushing a cat's teeth is a troublesome job. We all know brushing is important for cats' health. But, we cannot deny the fact that it is an irritating task!
But, not anymore, my friends. Today, I will tell you 11 different methods to keep a cat's teeth clean without brushing. Your painful experiences will wipe up, just like the tartar and germs in her mouth if you use the listed things.
You can clean teeth without cleaning if you buy some oral rinse, dental chews, water additives, chew toys, and if you clearly see any signs of discomfort, then purchase… well hold on, for that, you must read the entire article.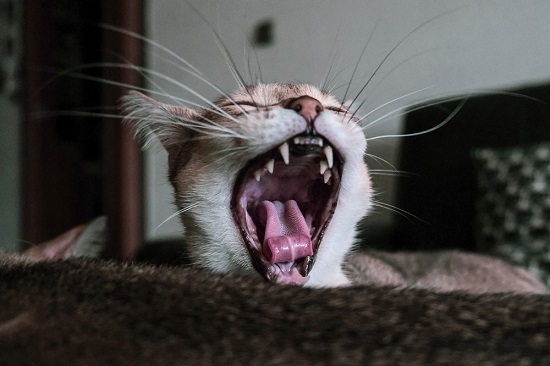 How to Keep Cat's Teeth Clean Without Brushing?
I have curated 11 products on how to keep a cat's teeth clean without cleaning and also recommend products under each section. You can totally invest in this. It's worth giving a try. Helps to keep oral discomfort away, dental diseases like gingivitis, inflamed gums, tooth decay away from her mouth.
1. Use Sterilized Gauze
The first item on the list of how to keep a cat's teeth clean without brushing is gauze.
Clean cat teeth without brushing with the help of sterilized gauze. It clearly doesn't contain any active substance, but it can wipe off nasty layers of germs inside her mouth.
You just have to wet it with water and rub it around her gums. It will remove all the dental plaque and tartar away from the gum line.
It functions similar to dental wipes. If you like, you can use a drop of coconut oil to it, or green tea oil extracts will also work.
2. Give Your Cat Dental Food Items
Feed your feline food items which are healthy for her body and healthy for her teeth too!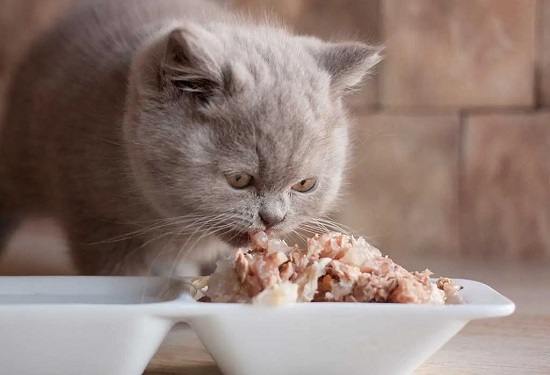 To keep her teeth stronger and cleaner without brushing, then you can use better dental products for your cat.
Check the ingredient list at the back of the food label. I prefer more natural products and non-toxic substances. They are much better and healthier, of course.
Next time when you go to a pet store, buy Hill's Prescription Diet t/d Dental Care Dry Cat Food. It comes in savory chicken flavor, and veterinarians recommend this cat food for dental care. The shape of this kibble is unique, which aids in cleaning the surface area of the cat's tooth. It contains matrix technology fiber that fights against tartar build-up.
3. Use Dental Wipes to Clean Teeth Without Cleaning
You can use dental wipes as a substitute for cleaning your cat's teeth. It is softer and can wrap around your finger easily. The actions of using a dental wipe are similar to brushing. The wipes have flavor along with active substances to fight against germs.
Just softly rub across her gum line with this; the chances of plaque formation are higher in that area. This won't work effectively if your cat won't like her mouth getting touched.
You can purchase clinically proven MOKAI Dental Wipes for Dogs and Cats. It is safe and effective, and has an active substance per wipe which helps to eradicate bad breaths.
It is specialized for curbing gingivitis and plaque formation inside the cat's mouth. The texture of the wipes helps to get rid of tartar easily and offers your cat minty fresh breaths.
4. Dental Water Additives and Dental Gels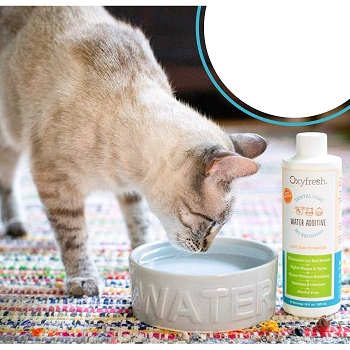 Oral water additives are a great replacement to keep a cat's teeth clean without cleaning. It is made of a concentrated solution that challenges plaque. When you add drops of these to your cat's drinking water, it will maintain her teeth strong and reduce oral problems in every sip. You can add a few drops of these to food also.
Oral Water Additives are great substitutes for all those cats who oppose toothbrushing. Therefore, get Oxyfresh Premium Pet Dental Care Solution Pet Water Additive for your cat for healthy and clean gums. It is an easy way of washing off plaque and tartar away from her mouth. If your cat doesn't enjoy daily brushing her teeth, you can definitely give this a shot.
It is 100% no toxin with odorless formula and has no taste. You can simply put some drops in the water bowl. And she will have a clean and fresh mouth with zero dental problems. It is recommended by most experts across the country.
Oral gels also help to prevent dental plaque and tartar. It offers a healthy oral environment in your cat's mouth. Kills all the gems and dental disease away from her. Plus, it helps to soothe irritation caused in gums also.
You can gift your kitty fresh breath by purchasing MAXIGUARD Dental Cleaning Gel for Animals; the enzymes in these kill the harmful germs. Prevent tooth decay and swelling.
It reaches all the remote areas of her mouth, so no need to buy toothpaste. You can apply this gel regularly. There are no side effects of it. If you are concerned, you may seek veterinary help before applying.
5. Feed Her Cat Dental Chews
Dental chews are also great alternatives to brushing a cat's teeth. You can also call these cat dental treats. It is generally a biscuit that can be fed to her for cleaning teeth.
Cat teeth cleaning treats performs mechanical action to scrub off the tartar and promotes healthy teeth and gums. It can prevent tooth decay too. It works in a way to be two-fold. It keeps the cat's gums healthy and gives her body essential nutrition too.
For the good dental health of your cat, you can purchase Greenies Natural Dental Care Cat Treat. It is tempting, keep the cat's breath fresh. Includes zero unnatural flavors and fillers. The best part of these treats for cats is it is low in calories. It is designed to fight plaque, and inflamed gums and reduce tartar. So, your cat can have a healthy mouth without brushing.
6. Give Chew Toys for Your Chewer
You must be wondering how toys can help in keeping a cat's teeth clean without brushing, right?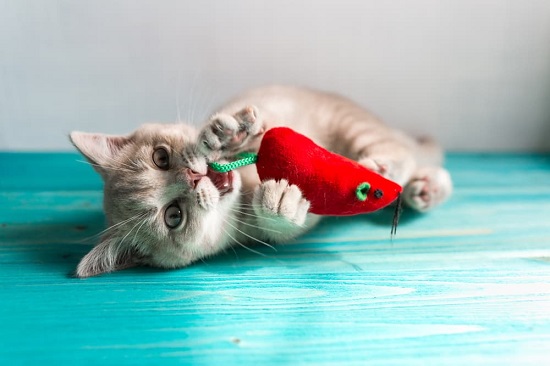 Well, it is important to keep your cat's dental health up to the mark. And chew toys function to keep dental diseases away from the cat's mouth. How?
When a cat chews her toys unknowingly, she also sheds plaque from her teeth. It stimulates her gum, prevents calculus, and protects the oral health of your pet.
I bought PAZ'S GIFT Cat Teeth Cleaning Chew Toy, and let me tell you; this is an amazing catnip grinding stick. It not just keeps her stress-free and calm but also improves her dental condition. I have noticed it cut off the layers of plaque and eliminated the fishy scent from her mouth. You can clean teeth without cleaning, isn't it hassle-free?
7. Give Your Cat Bones and Tendons to Clean Teeth Without Cleaning
Use a clever way to clean teeth without cleaning, want to know how?
Well, you are aware of the fact that your cat will be enticed by bones and tendons. You can use this point to clean her teeth without brushing.
Chewing bones and tendons will function similarly to chewing dental treats. Examine the bones that you give to her and make sure it has no splinters in them. When your cat munches on the bones, she also releases saliva, which helps to loosen out plaque biofilm easily.
So, to clean their teeth without cleaning and hustle-free, start adding uncooked and raw bones to her diet.
8. Make Your Cat Drink Freshwater
You can use freshwater also well, drinking fresh water will wipe off food debris inside your feline friend's mouth.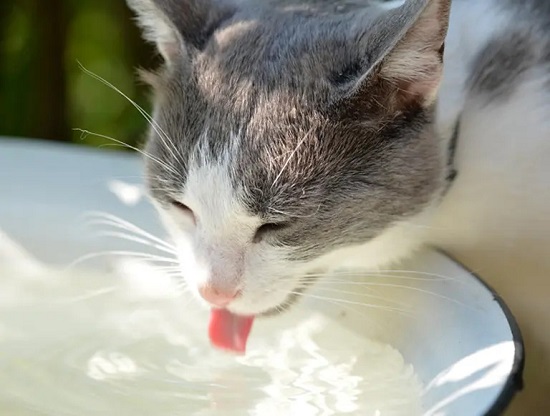 Give your cat enough fresh water to drink because stuck debris can lead to gingivitis. Once it occurs, your cat will face painful dental health problems. So, along with oral care products, make your cat drink a good amount of freshwater too.
9. Use Cat Dental Spray to Clean Teeth Without Cleaning
Dental sprays are liquids that you can splash into their mouth. It cleans their teeth and gums at a micro-level. It inhibits the growth of germs, causing dental problems. Clean your cat's teeth with dental spray to eradicate nasty layers of plaque.
If your cat has a bad breath issue, you can simply spray this and can get instant fresh mouth. It curbs all periodontal infections and reduces the risk of gum disease.
Get PetSilver Teeth & Gum Spray for Cats for your friend if she does not like her teeth to be brushed. It is the right daily dental care product for her as it controls oral health issues. If you don't like to brush your cat's teeth, you can definitely go for this. It promotes stronger gums and teeth. And has no harsh chemicals in it.
10. Application of Oral Rinse to Clean Teeth Without Cleaning
Another best alternative to brushing the cat's teeth is oral rinse. It helps to soothe her gums and wipe off gum irritation.
Squirt a little oral rinse inside her cheeks to get rid of all the signs of dental disease. Studies show that it inhibits the formation of plaque and diminishes tartar from her mouth. The best part of oral rinse is they can reach even the hardest zone of the cat's teeth where even a brush fails to go.
If you like the idea of oral rinse and want to apply it to your cat's teeth, then buy Dentahex Pet Oral Hygiene Rinse. It is clinically proven, and its application is convenient. Remove calculus build-up. It contains alcohol, and zinc additives that promote wellness and stronger teeth. It is trustworthy and effective. Rinse her mouth every day with this after she has her dinner.
Now, you are all equipped with the best practices and know-how to keep your cat's teeth clean without brushing.
11. Go for Professional Cleaning
It is important that you must keep track of your cat's oral health, and for that, you must visit your vet for an annual check-up. If the plaque deposit and tartar are hard, then he may ask you to go for professional cleaning also.
Well, That's a Wrap
If started, young kittens can become habitual of getting their teeth brushed but, if not, then the cleaning session could be unpleasant. But, no worries, we have listed down 11 products that you can use to clean her teeth without brushing her teeth.
I have jotted down all the important things in this blog on how to keep a cat's teeth clean without brushing. I have personally used these methods. It is safe and effective. It is definitely worth giving a shot, especially if you also find cleaning cat teeth not less than a heavy task.
References
9 Interesting Facts About Cat Teeth – PetMD
A guide to cat dental care – RSPCA
Cat Anatomy – Wikipedia