Let's get started on how to make a cat litter box out of a Rubbermaid container!
Tired of using commercial cat litter boxes?
What if we tell you, you can gift your cat a litter box made at home?
No worries, it is not hard; we will help you and completely guide you on how to make a cat litter box out of a Rubbermaid container at home.
In this article, we have provided steps on a DIY Rubbermaid litterbox you can read below and gift your cat her own customized litter box simply at home! It is inexpensive plus easy to use. Now, your cat will not be able to kick out the litter outside the box anymore!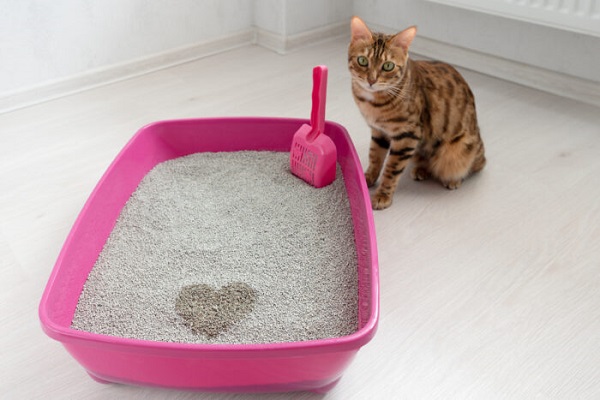 How to Make a Cat Litter Box Out of a Rubbermaid Container?
Material required to make Rubbermaid litter box.
Some Marker Pens
File
A soldering gun or a fine-bladed saw
18 litter Rubbermaid litter box (make sure to get large Rubbermaid bins so that it is easy for your cat to stand in without touching the lid cap)
Step 1
Simply take a paper, then cut that into 18 cm wide straps. This will be your template. So keep that safe; you can also use this template later on too.
Now, use this and try to mark the side of the box.
Step 2
Take a marker pen, measuring scale, and the paper template you made earlier. Now, make a 4 cm horizontal line at the bottom of the box.
Step 3
It's time to do some strength work!
Take your soldering gun and cut the marking that you made earlier. Make sure to use a flat-top soldering gun for cutting the plastic. But, if you don't have that, don't worry. Just make sure the plastic doesn't break while soldering. It's like when you cut the plastic box with a saw, the plastic splits. So, to avoid those cracks, try to do it gently.
Pro Tip: If you don't have a soldering gun, you can also try a saw to cut the plastic. But make sure you cut it slowly and with a fine blade. Large Rubbermaid containers are tough. So make sure the cutting part is done smoothly.
In case you are using a saw, make sure you don't rapidly cut back and forth. Also, if cracks occur, then you have to cover that with plastic packing tape!
Step 4
Now, keep it on two sides. Once the entry point is made, and the plastic is removed, this is when you have to do the filing! The edges are sharp, and it can hurt your kitty while using. So, to avoid such mishaps, always smoothen the edges.
If you are making a Rubbermaid litter box for your kittens, you have to cut it shorter than 10 cm from the base. In this way, she can easily use the litter box without litter being wasted!
You can make the entry point a bit narrow if your cat is slim. Furthermore, keep the measurement 7″ in that case.
Now, your Rubbermaid cat litter box is ready for use. Add some fresh litter and place it wherever your cat likes!
Read more
Why DIY Rubbermaid Litter Box?
Reasons why you should know how to make a cat litter box out of a Rubbermaid container, are given below.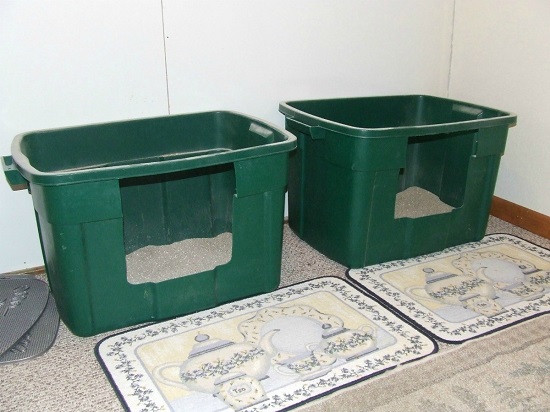 Firstly most of the cats spill out the litter from their litter box while covering their feces. This occurs most when the box is short; therefore, you can DIY a litter box project at home to avoid much mess. Customize according to her height.
Old grown cats are often affected by arthritis. They find it hard to move their body! They face trouble getting streams past the top lid of the hollow litter box. Therefore, a customized box will ease their pain.
Rubbermaid containers are strong and tall. Therefore, you don't have to bend down to lift the box every time! Plus, it is durable, and even heavy cats can tip over this box. So, the chance of an accident while flipping is lesser.
Litter boxes available in the market are very light in weight, and they can not bear heavy weight. So rather than buying a larger litter box from the store, you can make a Rubbermaid cat litter box simply at home.
Making your own customized litter box for a cat is easy. A litter box made according to your cat's size and weight makes her comfortable while using and doing her toilet business. The ones available in the market are mostly shorter, inconvenient to use, and very fancy, so making your own Rubbermaid litter box is a good idea!
In the end, what matters the most is comfort! Your kitty doesn't want a fancy box. She simply needs a convenient litter box to do her business!
Read more
FAQs
How to make a litter box out of a storage container?
DIY litter box steps are given below. Read and make yours now!
1. Take a plate and mark the shape on the top of the storage boxes with the help of a marker.
2. Cut the circumference with the blade
3. Soften the edges
4. Fill fresh cat litter in the box
5. Place your litter box wherever you like and, it's ready for use.
What are some alternatives to cat litter?
There are several alternatives to cat litter; you can try the list given below.
1. Newspaper scraps
2. Sand
3. Alfalfa pellets
4. Try whole wheat but add baking soda because it will stink a lot.
5. Wood shavings
6. Coconut peel scraps
Do cats prefer open or closed litter boxes?
Cats like an open, uncovered litter box for doing their toilet business because of the survival instinct! They feel threatened when covered from all sides. So, if you are planning to buy a new litter box for your feline, then choose an open, uncovered litter box!
Well, That's a Wrap!
Gift your kitty a specialized customized litter box made at home by reading this article on how to make a cat litter box out of a Rubbermaid container. We have written a step-by-step process in this article which you can easily follow.
Make sure the edges are softened enough after the cutting because those sharp edges can hurt your cat!
You just have to give some time and get basic tools and follow each step, and your homemade container is ready! You can also make Rubbermaid high-sided litter box at home too!
Till then, have fun and enjoy the DIY cat litter box project!
References
Custom Cat Litter Box Made Simple – DIY – OrganizedLifeTV
Making a DIY Temporary Litterbox From Cardboard – The Honest Kitchen
5 Homemade Cat Litter Substitutes – Love ToKnow