The litter box is considered one of the basic toiletry items, which should be there in your parenting list.
A well-kept litter box is very important because it not only teaches your kitty to use it for doing their business but also keeps them mentally, and physically healthy.
Nowadays, various types of litter boxes are available on the market which can confuse your mind. So, to help you out we have done some footwork regarding the best litter boxes for cats.
We have jotted down the ten best litter boxes for your kitty, which you can use hassle-free.
10 Types of Cat Litter Boxes
1. Open Litter Boxes
Open litter boxes are one of the best options for your kitty. Generally, it comes in large size, is open, and is easily accessible by most cats.
These boxes are available in simple ways, with no fancy look.
Open litter boxes are compact which means you can place them anywhere and do not occupy much place.
One of the USP of such boxes is that it offers an open design which means cats can easily get used to it because they are prone to nervousness so while doing their business if they can see what's going around them will feel secure.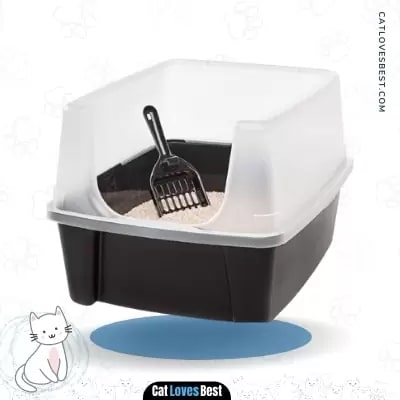 Design to offer plenty of space to your kitty
Includes matching litter scoop
Provides high polished interior surface for easy cleaning
This open litter boxes provide quick and easy access to your feline
Advantages of Open Litter Box
These litter boxes are the standard one that every pet parent can own as it is inexpensive and mostly accepted by all cats
It provides easy entry so that kittens to senior cats can use it
Such Litter boxes for cats are easy to clean
Highly durable in nature because good quality materials are used in the formation of boxes
Most important lifelines prefer such open boxes because they can see what's going around them and feel secure
Drawbacks of Open Litter Box
One of the snags of these types of litter boxes is that it increases the cleaning process because it comes in open design and not be able to trap the foul odor for a longer period to maintain hygiene level you have to clean it on daily basis.
As it offers a low or medium entry option so it increases the chances that litter may get scattered outside the box when your kitty is in a digging or playing mood in the box.
2. Sifting Litter Boxes
If you are one of those cat parents who hate scooping on regular basis and don't like cleaning litter boxes. Then my friend, "Sifting litter box" is your kinda product.
The best sifting litter box is a combo of two pans. In other words, one tray has grates on the bottom which fit inside another.
So, at the time of cleaning simply lift the first tray and let the litter sift through the holes, then simply dump the soiled one, and refill the box with filtered litter.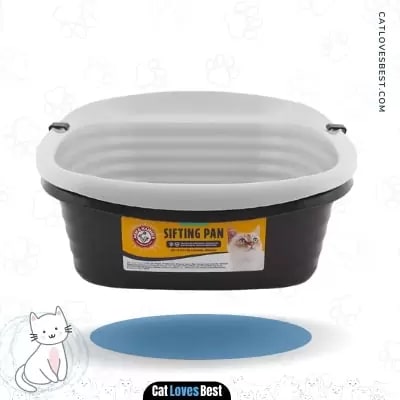 Petmate Arm & Hammer Large Sifting Litter
Eco-friendly product
Great for pine, crystal, clumping cat litter
Highly durable and easy to use
Patent sifting technology lets the litter pass through easily and se[erate the soiled clumps
Advantages of Sifting Litter Box
Sifting litter boxes has skipped the scooping step of manual cleaning, you don't have to waste your time scooping waste litter, it will filter out the soiled litter
While manual scooping there are chances of dumping fresh litter, so with the help of a sifting box only waste will be trashed out
Help to save money by not wasting much litter
Box can be cleaned easily as no waste will be stuck on the inner surface
It comes in open as well as covered option
Drawbacks of Sifting Litter Box
Due to its weight, difficult to carry from one place to another
Cleaning can be done but if you want to do deep cleaning then it is not possible because of its sifting design
It is not suitable for large cats
3. Covered Litter Boxes
Fed up with the litter box odor issue? Wondering, how to overcome it?
Well, we have a recommendation for you to go for a "Covered cat litter box" it will surely solve your issue.
Covered litter boxes are the same as the open ones, the only difference is that it has a lid. Generally, these boxes come in a simple design, but some come in elaborate designs like dome shape, and the swinging door which gives an extra touch to its look.
Note: Some covered litter boxes have ventilation, so will recommend you for those as they help to overcome the odor issue.
Check our article on how to clean a litter box for fast cleaning.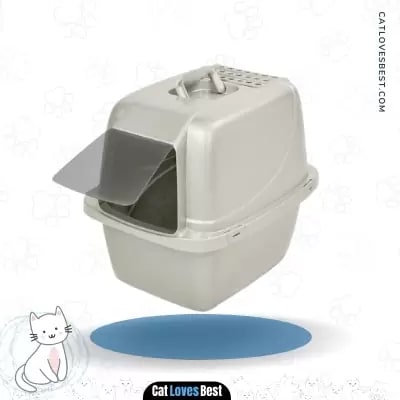 Advantages of Covered Litter Box
A covered litter box helps to prevent odor and keep the litter inside the tray.
It's an ideal choice for those felines who want privacy
It can also be an escape go place for those felines who are prone to stress
Not only helps to trap bad odor, but its covered design gives the litter box a decent look
Also helps in low tracking the litter
Drawbacks of Covered Litter Box
One of the snag sides of the covered litter box is that it can be hard to clean because of its shape
Felines who are claustrophobic will not use such types of boxes
Due to the heavy design body, such litter boxes require more space
4. Automatic Litter Boxes
If you are one of the busy kind of pet parents who don't have time to clean their feline litter box. Then automatic litter boxes are designed especially for busy pet parents.
It provides you with a great automatic function you don't have to do much, it will scoop, clean, and separate the soiled litter for you.
In the end, all you need to do is just dump the soiled one in the trash bin and wash or scrub the box once or twice a week.
It also offers a semi-automatic litter box that comes with a siren in it. When your feline litter box is filled or time to scoop it will get activated and reminds you to scoop the soiled litter and it also reminds you when to refill the box with new litter or replace the whole box with a new litter.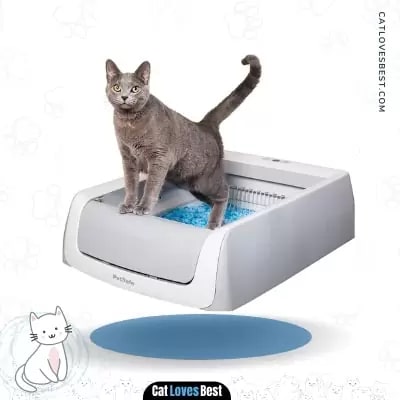 PetSafe ScoopFree Automatic Cat Litter Box
This litter box is innovative, stays fresh and clean automatically without hassle
Even the scooping part is done by the litter box
Each tray includes a lid for quick disposal
Works well with crystal litter
Advantages of Automatic Litter Box
An automatic litter box reduces the load of the cleaning procedure
No more messy floors
Easy to clean
Some of the automatic litter boxes have motion sensors, which helps to know how many times your feline has used the box
Drawbacks of Automatic Litter Box
The snag side of these litter boxes is that it's quite expensive
Occupies more space
Read more
5. Travel Litter Boxes
Traveling with your feline pal can be a tricky task. As we know, most cats get nervous when it comes to traveling because they don't feel safe outside their territory zone.
In such cases. cat parents get into the dilemma of how to travel with their feline pal. Well, we have a solution for you, go for "Travel litter boxes" when stepping outside the house with your kitty.
The best you can give to your feline is a stress-free trip for that carry travel litter box according to her preferences.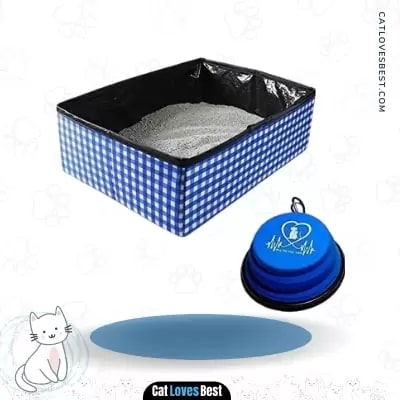 Pet Fit Portable Cat Litter Box
Nylon durable material is used for the outside covering of the box
The waterproof soft material used for the inside surface
As a bonus collapsible dish is also included for trip usage
It can be folded and require minimum space, making it perfect for a trip
Advantages of Travel Litter Box
Travel litter boxes are portable in nature, you can easily carry them from one place to another
If you go for an environment-friendly box, it will be shred and leakproof, because the recycled paper is being used at the time of formation
Help to protect against foul odor
Travel litter boxes are available in various variants such as collapsible ones and most of them have bowls and other traveling accessories
It is easy to clean as most of the boxes include clothing material, so swipe and you are good to go
Drawbacks of Travel Litter Box
Compared to regular other litter trays it is challenging to scoop
Collapsible or portable litter box does not have strong wall sides so there are chances that litter might get scattered outside the box
Traveling litter boxes are mostly portable in nature so it won't be able to take much weight of litter
Give a glance look at
6. Disposable Litter Boxes
Busy schedule? Don't have time to clean the litter box on regular basis? Fed up with the bad odor?
Well, "Disposable cat litter box" is a great choice for those who have a busy schedule or don't like to clean the litter box on daily basis.
These boxes are biodegradable in nature which means no harmful substances, sturdy plastic, or durable materials are included while manufacturing it.
Since it is made of biodegradable material, they are better for the environment as won't be leftover in a landfill forever.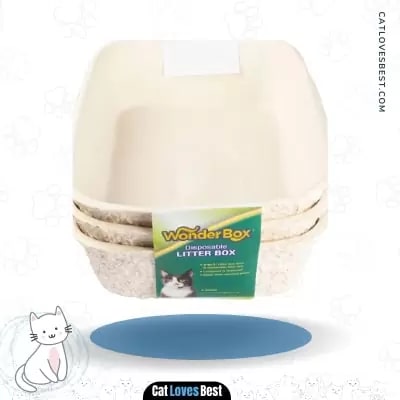 Wonderbox Disposable Litter Box
A disposable litter box helps to maintain an odor-free environment
It allows you to just dump the whole box in a bin once used fully
It is made of biodegradable material
This one will not leak or tear like other disposable litter boxes
Advantages of Disposable Litter Box
The majority of the cats prefer open design litter boxes
No need to clean the box, when it gets spoiled just throw it away
It is biodegradable in nature so you can easily dispose of it without giving it a second thought
You can take this box on your trip, as it is easy to carry and disposable.
Drawbacks of Disposable Litter Box
The disposable litter box is expensive
It is not made by keeping felines comfort, so might not be used by all cats
It is not durable as compared to other boxes, it might get damaged by your kitty's claws
These boxes cannot take much weight
7. High-Sided Litter Boxes
Cat parents who are looking for a deep litter box, then the "High sided litter box" is a great option. As it provides deep depth and high sidewalls, which automatically prevent your kitty from creating a mess outside the box.
A high-sided litter box is just like other litter boxes, except it has high side walls and mostly has a low entry option.
The best high-sided litter box design doesn't include a lid as high sidewalls are already there to prevent litter from falling outside the box.
Note:- Well, there are reasons behind your feline peeing outside the litter box. You can refer to our blog on why cats pee over the edge of the litter box. It will surely give you fruitful knowledge regarding your kitty's behavior problems.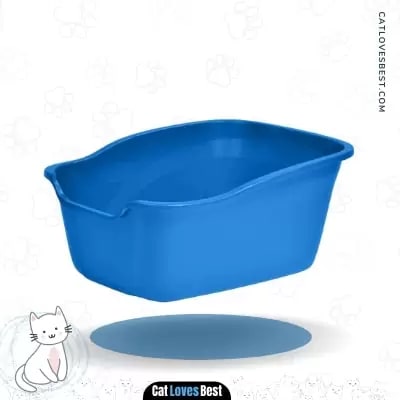 Van Ness Large High Sides Cat Litter Pan
A great choice for felines who like to dig
Easy to clean
High sidewalls help to prevent less mess outside the box
The box is highly polished, which helps in odor and stain resistance
Advantages of High-Sided Litter Box
High-sided litter boxes are a great choice for all types of cats. Due to its low entry option, it's an appropriate choice for kittens and senior cats
It is one of the great choices for those felines who love digging, it provides deep digging space
It's a high sidewall design, which means it will keep the granules inside the box while your kitty paw around for fun
An open-designed litter box is preferable to most felines, as they don't feel suffocated or scared while doing their business.
Drawbacks of High-Sided Litter Box
The snag side of this litter box is that it offers a low entry option which can create a mess outside the box.
A low entry point doesn't mean that it can be accessible by all the cats, might not be accessible by arthritis cats.
Might be hard to clean as it doesn't come with any removal lid
8. Top-Entry Litter Boxes
As a cat parent, you know it very well, cleaning the litter box is a major task. If your feline is a mischievous one, then it becomes more challenging. As you have to sweep the litter, which your feline pal has knocked out of the box.
To deal with this mess, the top-entry litter box is a great choice.
These top-entry litter boxes are designed in such a way that it has a high sidewall as compared to other litter box type. Plus, it has a hole at the top for entry and exit. The lid can be removed easily at the time of cleaning the box.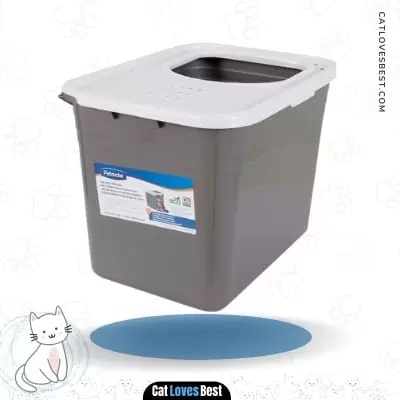 Petmate Top Entry Litter Cat Litter Box
This tall litter box allows your kitty to dig deep without spilling litter outside the box
The ideal choice for felines who wants privacy while using a litter box
The grated textured lid of this box helps to clean your kitty's paw before she steps outside the box
Recycle plastic is used, so it's an environmentally friendly box
Advantages of Top-Entry Litter Box
Its high side cover helps to prevent your kitty from knocking litter out of the box
Top-entry litter box plays a great role in cutting down litter tracking
Due to its enclosed structure, it also helps in trapping bad odor
Comes with a removable lid, so you can easily clean the box
Prevents children from accessing the litter
Drawbacks of Top-Entry Litter Box
One of the snag side of using this litter box is that it cannot be used by kittens or senior cats
Many top-entry boxes come with a removal lid but still, it can be difficult to clean
You cannot use light-weighted litter as it increases the chances of falling outside of the box
9. Extra-Large Litter Boxes
After a hell lot of experiments still not able to make an appropriate choice of litter box for your large furry pal?
Well, my friend, we have something for you. If you have large size cat, then always go for the extra-large litter box. It will not only help your kitty to do her business comfortably but will also prevent your floor from getting spoiled.
Your kitty won't be able to scratch the inner surface of the box as it's deeper than the normal one and she won't be able to dig in so far. This will not only prevent your cat from digging her own feces but also protect the box surface from getting damaged.
iPrimio Stainless Steel XL Cat Litter Box
This stainless steel box will never get rusty and stay long-lasting
It has a rounded edge so nothing will stuck in the corner
This nonstick coated litter box is easy to clean
It is completely rust-free
Advantages of Extra-Large Litter Box
These boxes are larger than the typical ones whether talk in terms of size, dimension, depth, or width. It counts under one of the best litter boxes for large cats.
It is specially designed with low entry points for large cat breeds so that they can walk inside easily.
Provide enough space, and high wall sides. This is not only good for large cats but also for small cats who have a habit of throwing litter out of the box.
In fact, it can be used for multi-cats households also.
As it has enough space your kitty will get plenty of space to do her business even if you haven't cleaned it for days.
One of the best things is that it handles the mess in a better way and prevents your kitty from spoiling your carpet or floor.
Drawbacks of Extra-Large Litter Box
It will require enough space so you won't match for small households.
The extra-large litter box will require more litter amount as compared to the other one so you have to buy it in a bulk.
Due to its height and design, it can be difficult for you to pour lump sum litter in one go.
10. Designer Litter Boxes
So, far you came across different variants of litter boxes that you can easily get from the market. Wondering, what's the difference between a normal litter box, and a designer one, right?
Well, designer litter boxes may not be effective as compared to other specific ones but it can add a great view to your house. There is nothing special about these modern litter boxes it's just hidden in form of the plant pot, side table or lamp table, etc.
Its elegant design upgrades the home decor
Sturdy and high-quality material is used
Easy to access
Offers magnetic doors and is easy to clean
Advantages of Designer Litter Box
You can place it in your living room and no one will know.
Designer litter boxes are more attractive than the normal ones, and you can keep it anywhere in the house.
For a small apartment, it's a great option as it can be used as household furniture and a kitty's litter box at the same time.
Apart from the litter box, you can also keep your kitty's toiletry items in one place if it's hidden inside any furniture.
If your kitty is shy and doesn't like to do her business in front of everyone then it's a great choice for her as no one will come to know what she is doing inside.
Drawbacks of Designer Litter Box
The designer litter box is an expensive one as compared to the other one.
Such litter boxes are not good at hiding bad odors, so you have to clean it on a regular basis as it will spread foul smell in the surrounding.
Your kitty might end up learning that a plant pot and side table is an appropriate place to do her business.
Read more
Other Types of Litter Boxes
1. Corner Litter Boxes
There is nothing much different about the corner litter box, we can say that it's just a replica of the normal litter box. Except shaped at a 90-degree angle, so that you can place it in any corner of the house easily.
These boxes come in two options i.e open and closed ones. So, according to your kitty's preference, you can select it. One of the advantages of using this litter box is that due to its design entry is fixed, and this will restrict your feline to create a mess.
However, due to its fixed size, it is not recommended for large cats only kittens or small cats can use this box.
You can also refer to our article on how to introduce a new litter box to your cat for easy switching.
2. Litter Box for Multiple Cats
As various types of litter boxes are available, there is an option for multiple cat households also. It comes in giant size and with high walls, it not only prevents your kitty to spoil the floor but is also fit for multiple cat usage.
Such boxes come with low entry as it is easy for cats to enter the box and do their business and if more than one cat is using it at a time it provides enough space so that they can use it comfortably.
Read more
Buyer's Guide: How to Select the Best Cat Litter Box
So, far we have discussed the different types of litter boxes available for your feline pal. Now, let's give a look at the mandate features that one pet parent should go through before buying a litter box for their kitty.
You have plenty of options but it can be a hard one to choose if you don't know the basic feature requirement, and you may end up buying the wrong box for your feline pal. Before buying jot down your kitty's size, height, and personality it will help you to make the right choice.
Scroll down to go through some basic features like size, height, material, design, etc. Surely, will help you to make a wise choice.
Size
One of the most important things to look at while buying a litter box for cats is its size. Not all breeds are of the same size so according to your kitty's size, you have to make your decision.
There are different sizes of litter boxes available in the market so if you buy a small box for your large feline pal then it's of no use. As she won't be to do her business properly and eventually end up doing it outside the box.
Let's face the fact felines require enough space to do their business. They not only just go inside, and comes back they have the tendency to dig their own feces and move around the box. For that, they require enough space so it's advisable to go according to your kitty's size.
Height
Well, in general, the standard height of the litter box is seven to eight inches, which is recommended for the majority of cat breeds.
But. if you have a mischievous feline who has the habit of throwing litter out of the box while using it. For them, it is recommended to go for a high side cover litter box, which not only prevents them from throwing litter out of the box but also saves your floor or carpet from being spoiled.
Inside surface
One of the important things to look at while buying a litter box is its inner surface, whether it's strong enough. This is because felines have the habit of scratching everything, and they like to dig their own feces. So, if the inner surface is not of good quality, then no use.
As the box will get damaged, and then you have to switch to a new one. So, it's important to check the inner surface also.
Material
If you don't want to change your kitty's litter box frequently, then go for a sturdy material type that will last longer. As we all know, various types of litter boxes are on the market it comes in plastic, as well as stainless steel.
Both have their own pros and drawbacks, stainless steel is easy to clean as compared to plastic. However plastic is more lightweight as compared to steel. So, as per your kitty's usage and preference select the good quality whether you go for steel or plastic.
Read more
FAQs
1. Do cats prefer covered or uncovered litter boxes?
Cats prefer a clean environment, when it comes to litter boxes they will prefer using clean, large, and easy entry ones. There is no such percentage that can give you an estimate that feline-like covered or uncovered litter boxes.
But, yes we can say that a covered litter box can be their first choice because it helps them to breathe comfortably when they do their business.
2. How often should you change cat litter?
Ideally, twice a week you should change your kitty's litter only if you are using the good quality litter. However, it also depends on your situation, you may need to replace it every alternated day or only once a week. Solely depend upon your kitty's usage and your cleaning procedure.
3. How much litter do you put in a litter box?
As per the survey, it has been observed that the ideal amount is 2-3 inches of litter. Try to fill your kitty's litter box with 2-3 inches, as it will not only help your kitty to do her business comfortably but also you can use the litter for a long time if used accordingly.
If your kitty has the habit of scratching the box surfaces, for them it is advisable to fill it around three-four inches.
4. Do cats get upset when you change their litter box?
Well, yes felines get upset if you try to change their routine, meal or personal stuff, etc. So, if you change her litter box there is a high possibility that she might get upset, and will simply ignore the usage of the new litter box no matter where you place it.
So, try to replace it with a replica of the old one and give time to your kitty to adapt the change.
5. How often litter box should be cleaned?
If you scoop the litter on daily basis then you don't have to face problems in cleaning the litter box. As you only need to change the litter every two-three days because a spoiled one is already being scooped out.
One more thing, keep the habit of scrubbing the box surface and corners whenever you change the litter. It will help to keep it clean and save your time.
Conclusion
Here, we would like to conclude our article, regarding different types of cat litter boxes.
Let's just quickly recall what we have discussed above like different types of litter boxes such as open, covered, travel, automatic, etc.
Plus, we also tried to highlight the basic features such as size, height, material, etc.
So, now you know basic information related to cat litter boxes and other important factors to look at before finalizing a litter box for your feline pal.
Hopefully, now you will be able to make a wise choice before buying the next new litter box for your kitty, which will be beneficial for both of you.
You can also give a glance look at
References:
Best (and Worst) Spots for Your Cat's Litter Box – PetMD
Solving Cat Litter Box Problems – Pet WebMD
How To Make Cat Litter Last Longer – Petmate